WELL LEATHERED - 2021 GOTY ENTRANTS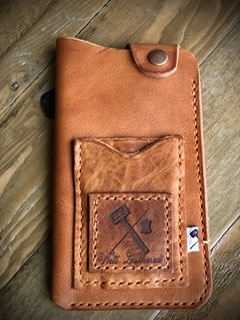 Product Description
Famous Horween full-grain leather phone case in English Tan or black. Two card slots to the front, therefore perfect to hold ID/cash or store cards.
Handcrafted and personally hand-stitched using nylon bonded thread.
Line 20 snap as a closure
Available in English tan, Black, Nut and Buckaroo red.
All brand smart phone sizes available.

Tell us about your business
I have always had the desire and inspiration to create long-lasting handcrafted luxury leather accessories, most recently my favourite, creating handbags. I also wanted to use the best quality leather that would last a life time and maybe, a gift that keeps on giving. Quality not quantity and sustainable.

What can you tell us about your entered products?
I decided to enter a smartphone leather case in this years GOTY 2021.
It's a simple design with card slots to the front, which hold some of your personal store/cash or ID cards.
Everything in one place without rummaging deep into your hand/man bag for your purse/wallet or phone.
From my experience of using a phone case for the past two years, may I add, I am still using the same phone case.

The phone case is simple and practical. My phone has dropped to the floor on many occasions with my clumsy hands, fortunately my phone was safely in it's leather case, which protected the phone from breaking.
Therefore spending £99 for one phone case is a great investment for the 2 years in use. The stitching in tact and still going strong.
The Horween leather hide I handcraft with is 2.0-2.2mm thick!
The Horween buckaroo red is 1.8-2.0mm
The nylon bonded thread is specially produced for Well Leathered for its strength and durability.
Saddle stitch technique is one of the strongest stitching.
I personally saddle stitch each leather accessory for strength.
The leather will soften and patina in time which is a symbol of a natural ageing process of a natural product. A patina does not affect the longevity or sturdiness of a product. if anything, it only increases the beauty, the value and feel of the product. A patina is the hallmark of a high-quality genuine leather product!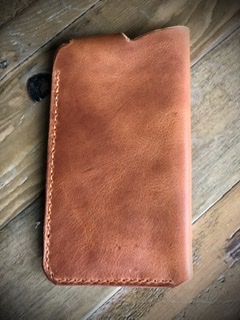 Why did you choose to enter Gift of the Year 2021 and has the competition helped boost your brand in the past?
Well Leathered was proud to be chosen and shortlisted for Gift Of The Year shortlisted 2020 in the fashion category!
The product shortlisted was the laptop tote.
The boost to being shortlisted gave me so much confidence in my handcrafted accessories. I have finally stepped out of my comfort zone and believe In myself.
Gift of the year is a huge platform, and this has given my brand a little springboard to finally become noticed!
Through GOTY I have joined webinars and learnt so much from the industry.
Has your business been affected by Covid-19?
During the first lockdown, I had no internet for twelve weeks due to a change of internet provider. Fibre had just been introduced to the area as I live semi rural.
I work bank shift as a community care worker, therefore I was needed in the community, so my micro business had to take a back seat while I had no internet. However, Well Leathered attended two, long weekend, virtual shopping events with Country Living. I hired a virtual assistant to promote the events due to having no internet connection. I also tried to maintain Well Leathered visibility with the little phone data I had.
Covid-19 did reduce Well Leathered's visibility. I had stock of leather available on site. I was able to receive leather from my UK supplier too during lockdown!

What changes have you made as a result?
Changes I have made are within my mindset.
The three P's, positive, productive and persevere.
What other products have you brought to market for 2020, can you share them here?
The Ivy Vintage hand bag is beautiful and charming.
At present I am handcrafting a bespoke Ivy vintage for a client.
Handcrafted with Horween black leather exterior. Paired with Italian leather interior in grey. A lovely contrasting finishing stitch with nylon bonded thread in grey.
The client requested a matching phone case. The item has been crafted to match the Ivy too!
Every handcrafted handbag or tote has an individual identity number which is sewn into the hand bag, and registered with Well Leathered. The client chose her own individual identity number to be registered.
A clients little personal touch makes the purchase more special.
I do not create fast seasonal fashion.

Well Leathered's accessories are to be purchased and cherished throughout the year.
The part I love the most is unexplainable. The way I work is inspirational, with no pattern templates ready to hand. When an image pops into my mind I get a sudden urge to create and craft my piece into reality. That is when intuition, desire and creativity take over.
Where can your products be purchased?
I am in discussion with Julie Kerr, head of brand partnerships at 15-17 a retail reinvented store. Hopefully Well Leathered will have accessories displayed in a store to purchase very soon!
Purchases can be made on the Well Leathered website.
www.wellleathered.co.uk