Tikiri Success Story
SRI LANKAN "Tikiri" toys wins ethical gift award at the NEC Spring Fair Birmingham 2020, organised by the giftware association UK.


We are absolutely delighted that Tikiri toys was warded the Gift of the year 2020 in the ethical Gift Category. Gift of the Year is the most highly respected industry accolade recognizing the best of the best in new products. The Award Ceremony was attended by Dr.Lakmini Mendis, the minister of commerce, Sri Lanka High Commission in London.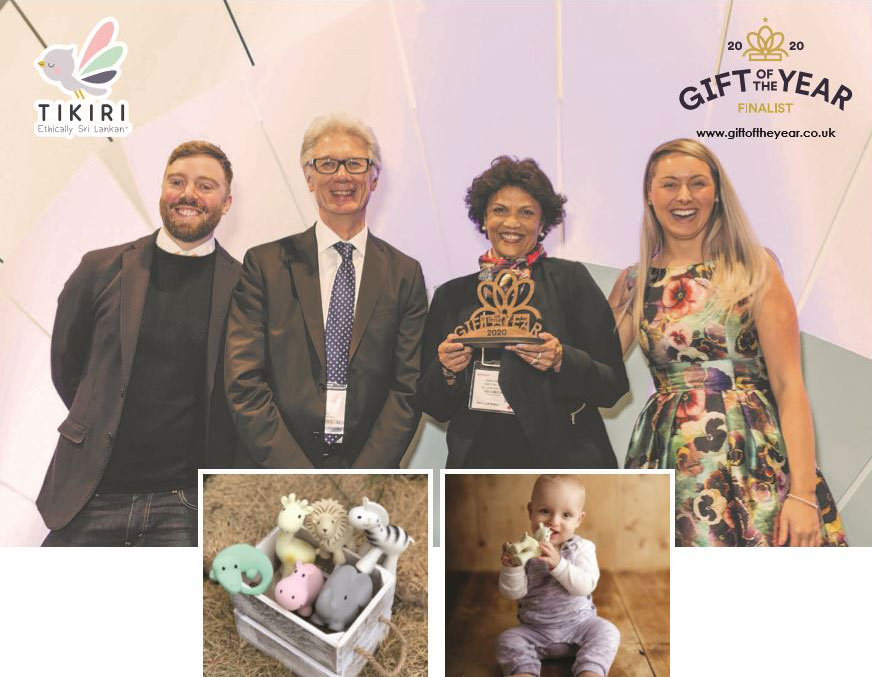 We are also proud to announce that Tikiri was considered "2020 Toy Trend for the future" at Spielwarenmesse in Germany.
The "Fridays for Future" student demonstrations have managed to do what many politicians and environmental initiatives have been trying to do for years – raise the publics awareness about climate protection on a global level. We only have one Earth and it cannot be replaced. Even younger children are receptive to play involving the topics of environmental awareness, sustainability and renewable sources. Whether through children's books, science kits or board games, topics like wind power and recycling can be explained easily using toys. Toys with a modern design which are made from ecological materials such as corn starch, sugar cane, old plastic bottles or sawdust ensure an environmentally conscious playtime.
The "Toys for Future" trend brings children closer to the topics of sustainability and environmental awareness in a playful way.
The colourful "Ocean Buddies" rattles by Tikiri are made by hand from the purest home-grown rubber on the island of Sri Lanka in an environmentally friendly manufacturing process. They are biodegradable and free from harmful chemicals. The rattles serve as a teething toy and ensure lots of bath-time fun, are easily gripped, long tasting and engage all of baby's senses. Tikiri supports the organisation "plastic Oceans" who have made it their mission to fight against plastic waste in the sea.