SPICE POTS - 2021 GOTY ENTRANTS
Product Description Our mission is to make it easy to create healthy and simple Indian home-cooked Indian food. Our luxury gift tin combines our five blended spice mixes, including one for sweet treats, our 150 page cookbook and a cook's candle to help neutralise cooking odours. Presented in a stunning, re-usable tin. A food gift appreciated by both new and experienced cooks, too pretty to keep in the cupboard.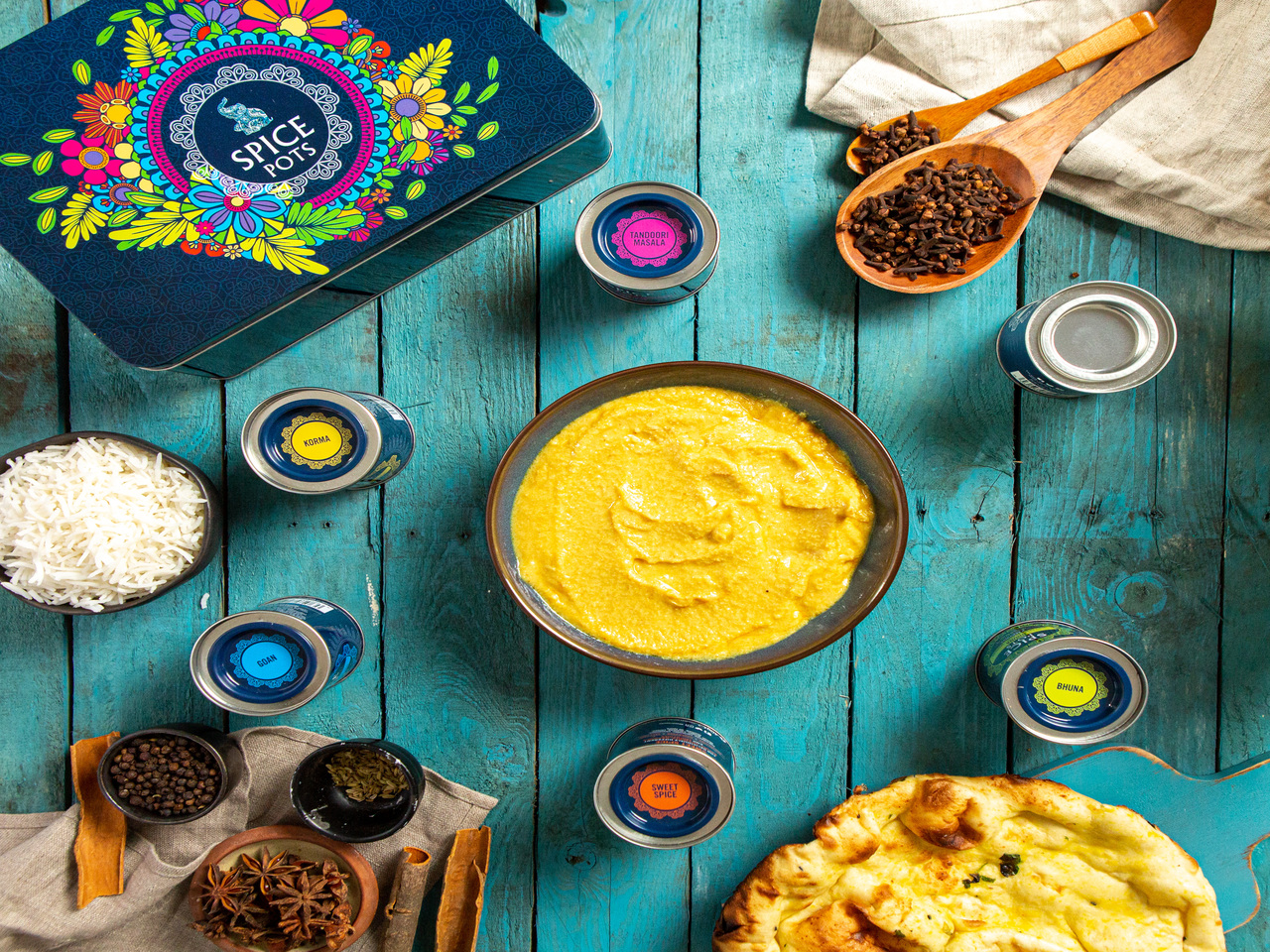 Tell us about your business
We are on a mission to promote healthy, home-cooked Indian food . Started by Melanie Auld after she needed a quicker solution to making the Indian food she loved, after living there for 8 months in the 90's. Our ideas are very simple but with our blends and recipes, life will be easier in the kitchen for those who love to cook! We also offer an eco-friendly gift range,.
What can you tell us about your entered products?
Our Luxury Gift tin really is a lovely thing and and is great solution for those tricky to buy for friends and relatives!
We are very proud of our compact, colourful and eco-friendly curry kits, including the Curry Night Kit and our Vegan Curry Kit. Both contain 4 perfectly balanced spice blends and a little booklet with 8 simple recipes. A gift that keeps on giving, as at least 8 family meals can be cooked with these sets, and the retail price is under £15.00.
They brighten up the shelves of any shop, they store well and have a long shelf life.
We hope to inspire a whole new crowd and to help show how simple it can be to make healthy Indian food from scratch.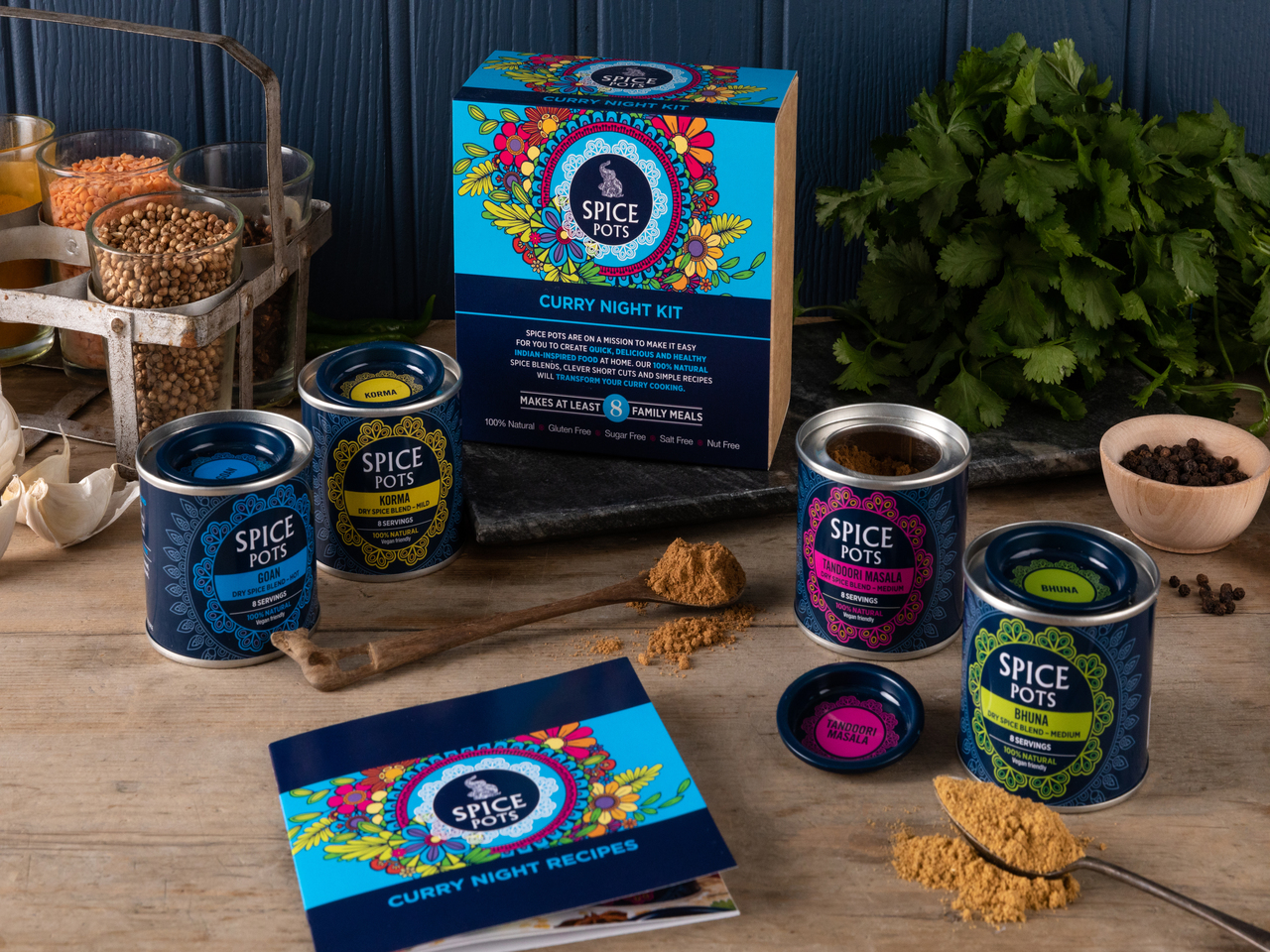 Why did you choose to enter Gift of the Year 2021 and has the competition helped boost your brand in the past?
The competition has been on our radar for a while but this is the first year that we've felt that our range is the best it can be. We made some packaging upgrades at the beginning of this year and we now feel that we present fantastic food gifts that we would like to show off!
Has your business been affected by Covid-19? It was tricky when the whole team was at home trying to home -school kids and I had to run the business on my own for a couple of months, however we really cannot complain.
We have been very fortunate that our online sales have had a massive spike due to Covid-19. Our wholesale business is down however, we've also managed to pick up a couple of fantastic new clients.
We've learned a lot this year and are very grateful for the continued support of our customers.
What changes have you made as a result? We've realised that we need to strengthen the foundations of our business so that we can cope with more volume of sales. A couple of weak spots were revealed so we are working to make sure these are as bullet proof as my amazing team!
What other products have you brought to market for 2020, can you share them here?
We've also brought to market a range of Letterbox Gifts. This was as a direct result of Covid-19. They are a bit rough and ready at the moment, but great value at only £12.95 (inc free delivery). However, we can reveal that the Letterbox range will get a lovely new look in 2021. We will enter these next year!!
Where can your products be purchased? www.spicepots.com