PMC - GOTY 2021 ENTRANTS
Product Description
Here at PMC we offer over 5000 individual gifts all designed, personalised and despatched in-house at our premises in Staffordshire. You are sure to find a perfect gift from us, with categories for Weddings, Anniversary, Christenings and other religious events, Birthday, Back to School, Memorial, Pets, plus all of the seasonal occasions on the calendar.

Tell us about your business
PMC is a family run business run on an idea to design and manufacture quality personalised gifts at a competitive price, alongside the very best customer service. What makes PMC unique is that we offer a huge range of gifts and ever-expanding each month. A wealth of knowledge and expertise has accumulated during the past 17 years resulting a successful supplier leading the personalised gift sector

What can you tell us about your entered products?
We entered a number of products across different categories, a nod to the huge range of personalised gifts that we offer! We chose gifts that received fantastic feedback from our retailers. We entered our personalised LED light bulb, a real statement gifts with a modern look, ideal for home and office. We also entered a beautiful LED hanging heart with hidden batteries is a wonderful addition to any home. We felt entering our personalised face masks was a must this year as they have been such a big part of all of lives for 2020. A quirky personalised gift entry comes in the form of our wooden glasses stand, you won't want to take your glasses off the stand! An entry we have worked hard on this year is our 'make your own' hanging baubles. Featuring personalised components, in a flat pack form, you use the instructions provided to create your own magical decoration!

Why did you choose to enter Gift of the Year 2021 and has the competition helped boost your brand in the past?
Our entry for Gift of the Year 2020 received a highly commended award which we were thrilled with. The Gift of the Year awards are highly regarded in our industry and so we have our fingers crossed for even more success for 2021!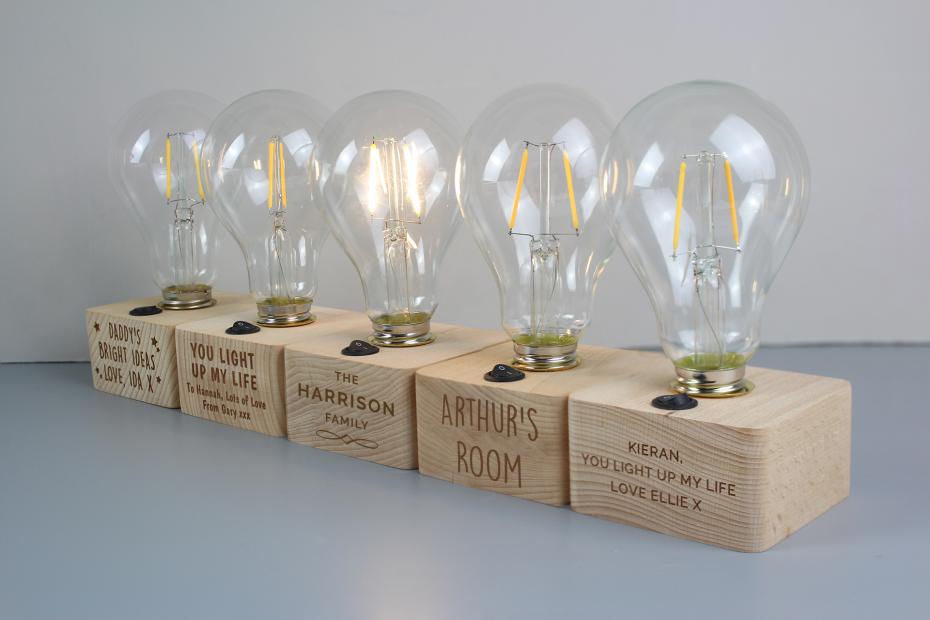 Has your business been affected by Covid-19?
We have faced many challenges from the start of the pandemic. Stock availability from our suppliers has been difficult at times. However, the sales from our online retailers have seen record-breaking figures for 2020.

What changes have you made as a result?
We made alterations to our operations as a priority to accommodate social distancing to ensure all staff are working safely. Then we had to react to demand; streamline production processes and manage our stocks levels well to continue to provide our industry-leading service into the busy seasonal period.

What other products have you brought to market for 2020, can you share them here?
As ever, we continue to bring a huge array of new personalised products to market on a regular basis. Gifts for pets have been really popular, such as the super cute dog bandanas, practical pet mats and ky feeding bowls. We have launched a number of mugs, cards, chocolate and sweets on a range of sentiments based on 'thinking of you' and sending a personal message to someone when you can't be there in person – a huge theme throughout all of our personalised gifts going into 2021.

Where can your products be purchased?
All of our products are available to retailers at www.personalisedmemento.co.uk