PAPER MIRCHI - 2021 GOTY ENTRANTS
Product Description We use 100% tree-free recycled cotton paper and utilise ancient textile processes such as hand block printing, tie dye, batik and techniques such as hand marbling to create an exceptional range of gift wrap sheets and greeting cards.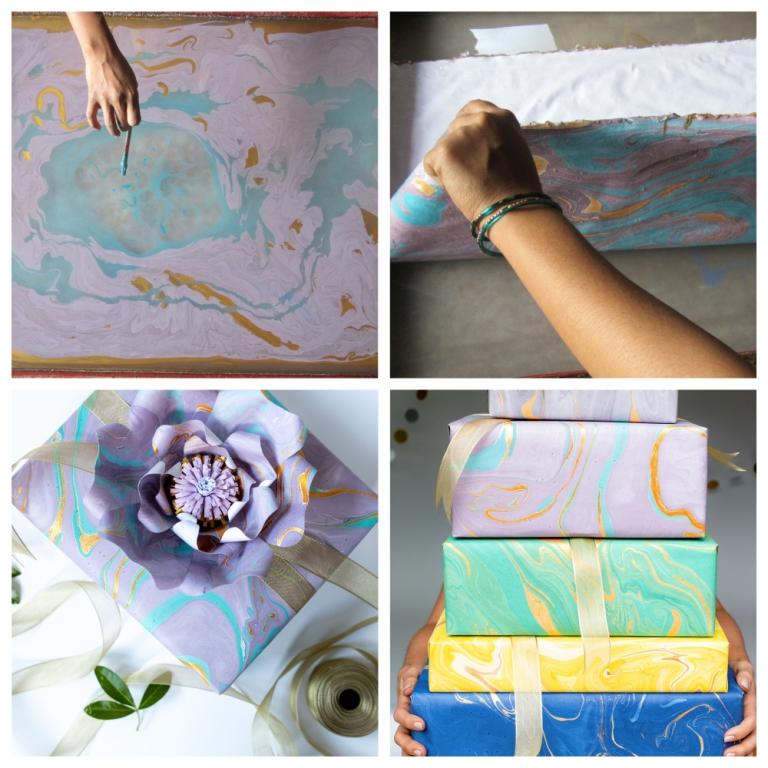 Tell us about your business
Born out of a love for wrapping, passion for tradition and background in textiles, Paper Mirchi focuses on creating luxury artisanal papers that are handcrafted, recyclable and sustainable. We use 100% tree-free recycled cotton paper and utilise ancient textile processes like hand block printing, tie dye and marbling to create an exceptional range of gift wrap and greeting cards.
What can you tell us about your entered products?
Craft traditions worldwide face serious challenges competing in a world overflowing with technological advances. We pride ourselves on our partnerships with small family-run units in India, which not only preserves traditional crafts but also bolsters the local economy.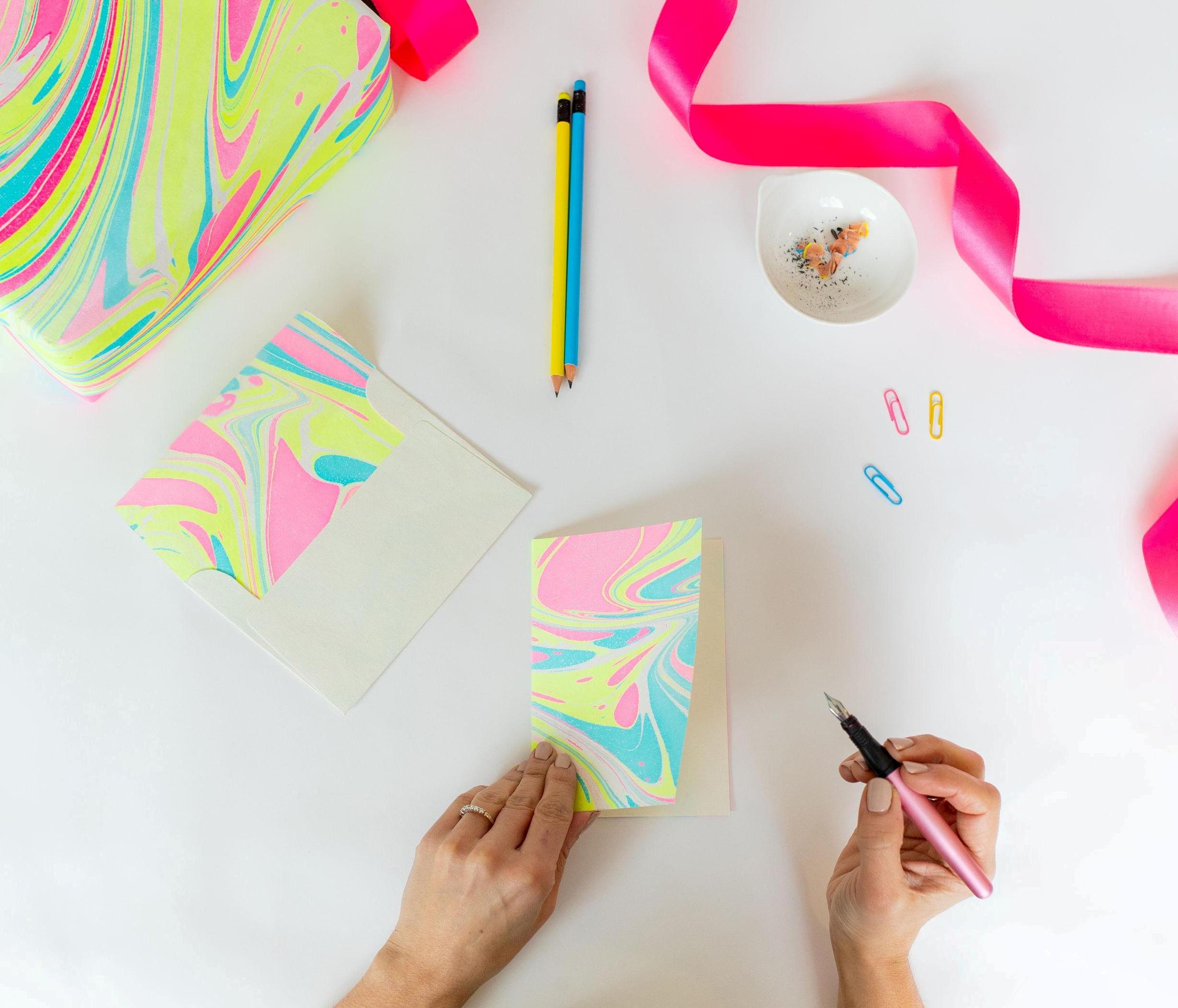 HAND MARBLED GIFT WRAP SHEETS
Colours are applied to the marbling tray and patterns are created using a wooden stick. Each sheet is then carefully lowered into this tray and the pattern transfers on to the paper. This process is repeated for every sheet.
The papers are then hung out to dry naturally.
Choose from elegant metallics to funky neons.
HAND BLOCK PRINTED GIFT WRAP SHEETS
Hand carved wooden blocks are used to manually stamp beautiful designs on to our handmade cotton paper using only the experienced eye and dexterity of the printer.
A high level of skill and precision is required to produce every sheet. This ancient textile printing technique is labour-intensive but the results are truly amazing.
Our range includes contemporary designs as well as ethnic prints in trend-driven colours.
HAND TIE DYED GIFT WRAP SHEETS
Tie & dye is an age-tested resist dyeing technique in which the paper is folded into strategic patterns and then dyed separately in parts to create interesting designs. The sheets are then hung out to dry and finally pressed to remove the creases.
The high absorbency of our cotton-based papers makes our tie & dye range as vibrant as a fabric.
As the dyes penetrate through the paper, these sheets are patterned on both sides
making them usable on either side.
HAND MARBLED/ BLOCK PRINTED GREETING CARDS
Designed to complement our gift wrap, these beautiful handcrafted greeting cards would be just as effective used on their own.
Each card is hand marbled / block printed on luxurious tree-free 250gsm cotton cardstock and accompanied by a luxury peel and seal envelope which is marbled or block printed in the matching design on the reverse for understated appeal.
The card and envelope are supplied cello free and are neatly held together with a tree-free belly band.
Size A6
Blank Inside
They can also be easily framed to become a beautiful ornament or a keepsake.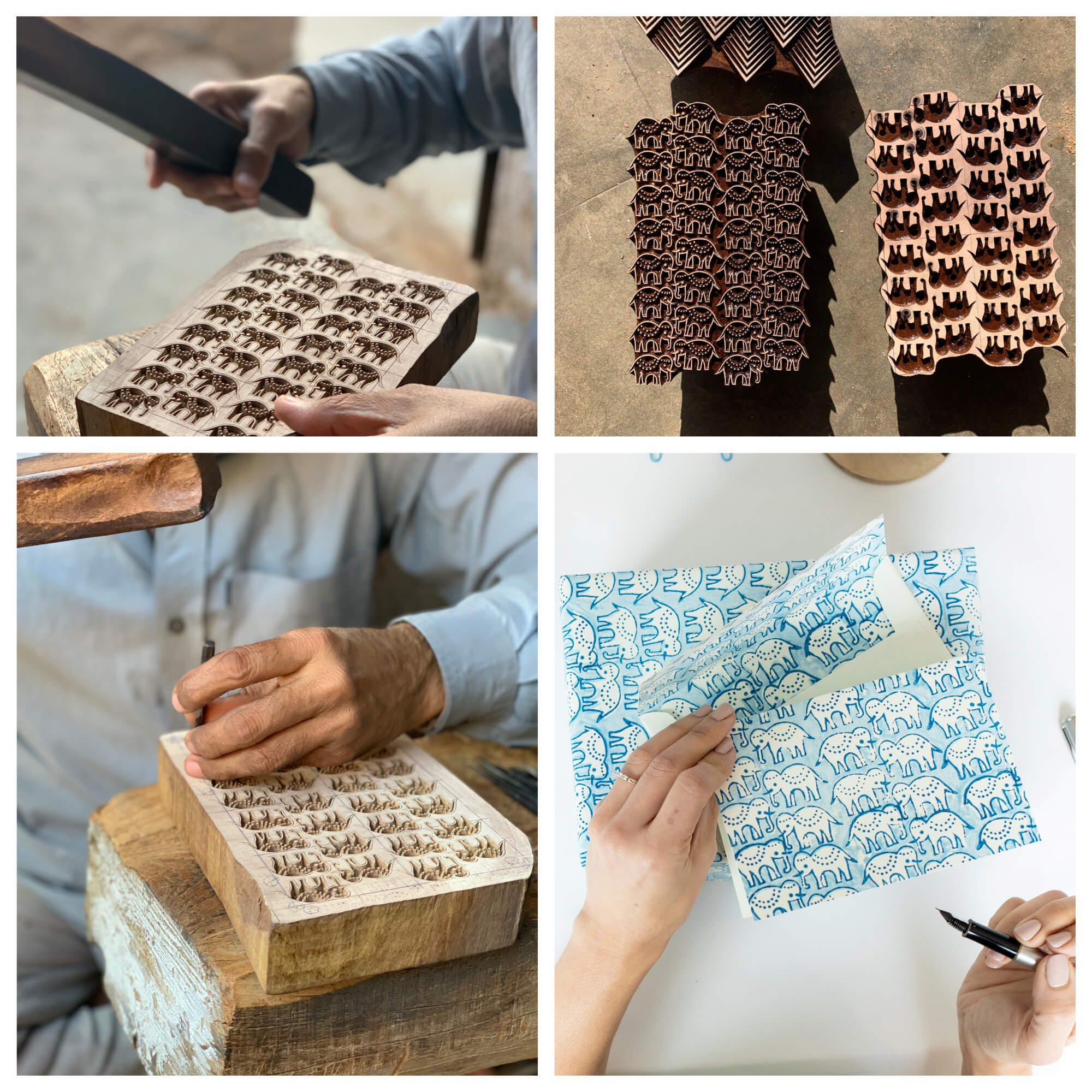 Why did you choose to enter Gift of the Year 2021 and has the competition helped boost your brand in the past?
I have won the Gift of the Year Award twice before and this has brought my small business a lot of recognition and kudos in the giftware industry.
Has your business been affected by Covid-19?
The overall buying behaviour of consumers has changed towards products that are ethical, eco-friendly and sustainable and this has been an advantage for us.
People are also spending more time and making special efforts to send cards and make presents look pretty.
A lot of people have also taken up new crafting hobbies where our handmade papers have been very popular.
So, overall Covid-19 has opened up new opportunities for us.

Where can your products be purchased?
Our products can be purchased at John Lewis, Paperchase, Selfridges and a host of independent shops across the country.