LOTTIE SIMPSON - 2021 GOTY ENTRANTS
Product Description The loveliest gifts from your little ones are those that they've created themselves. We have combined the sentiment of a personalised gift with the luxury of a professionally printed card. Printed on luxury 300gsm board our Colour + Send cards are designed to withstand a range of media including crayons and felt pens. A card to keep and treasure - Colour + Send!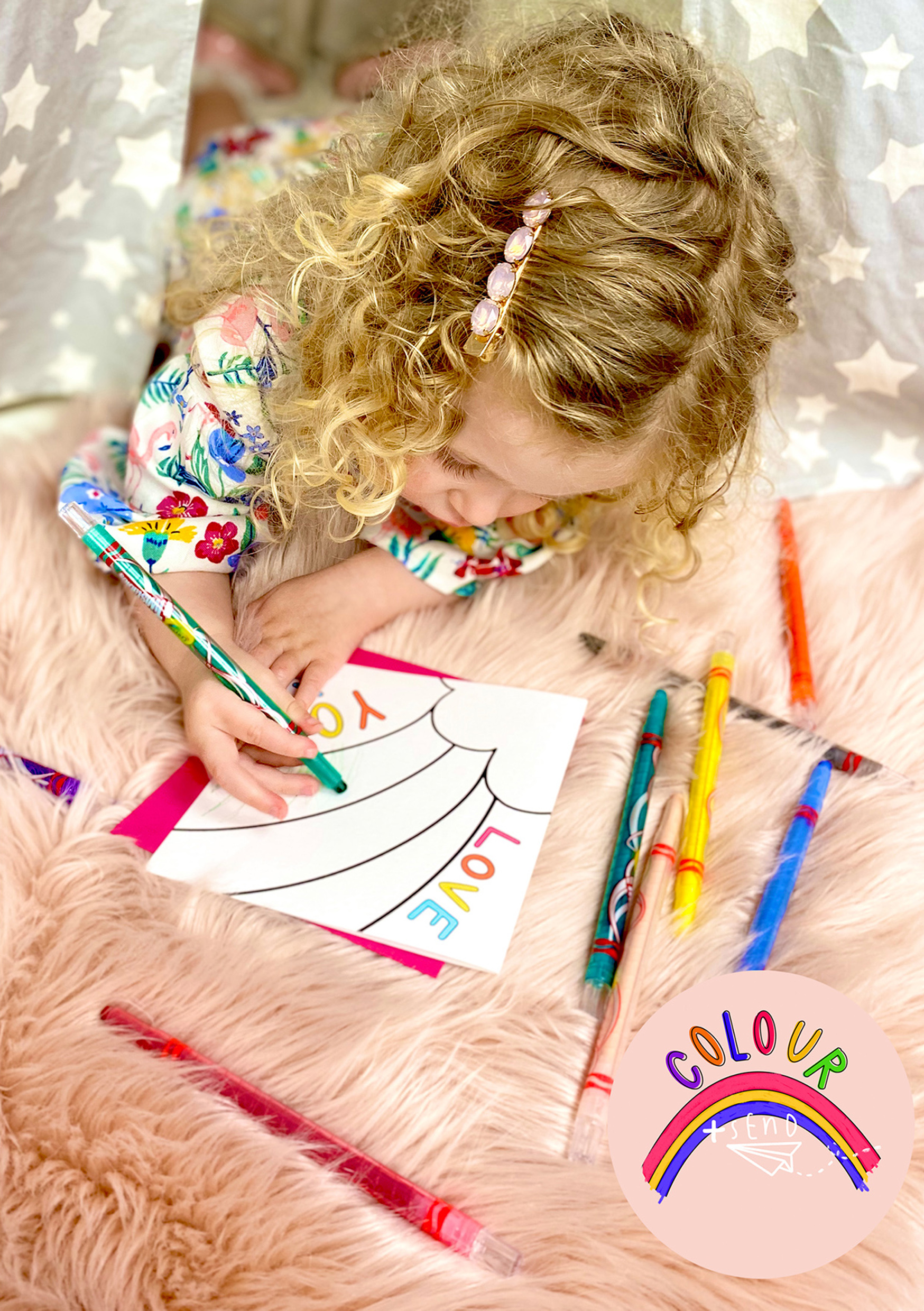 Tell us about your business
Lottie Simpson is a small studio based in Derbyshire designing beautiful and meaningful greeting cards. Each design is illustrated by Lottie, professionally printed and hand finished with Swarovski® Crystals. Lottie is also the creator of Colour + Send cards, luxury professionally printed cards for little ones to colour before they send - Colour + Send!
What can you tell us about your entered products?
Each of our Colour + Send cards have an important element pre coloured that doesn't just add to the quality but makes them really stands out on the shelves who the card is for. The design of each card continues onto the reverse with space for the artists' name.
Alongside our Colour + Send range we have our 'Hello Family' range - a collection of beautifully illustrated cards hand finished with super sparkly Swarovski® Crystals.
A collection of simple things we perhaps took for granted, like holding hands with Grandad and feeding the ducks or getting ice cream with Grandma or walking in the park with Granny. It was important to us to include ethnic cards in our designs and we will continue to do so in our future collections.
All our cards are super friendly to the environment using FSC approved boards and envelopes. Recyclable stickers and are wrapped in compostable, biodegradable and recyclable bio-based film.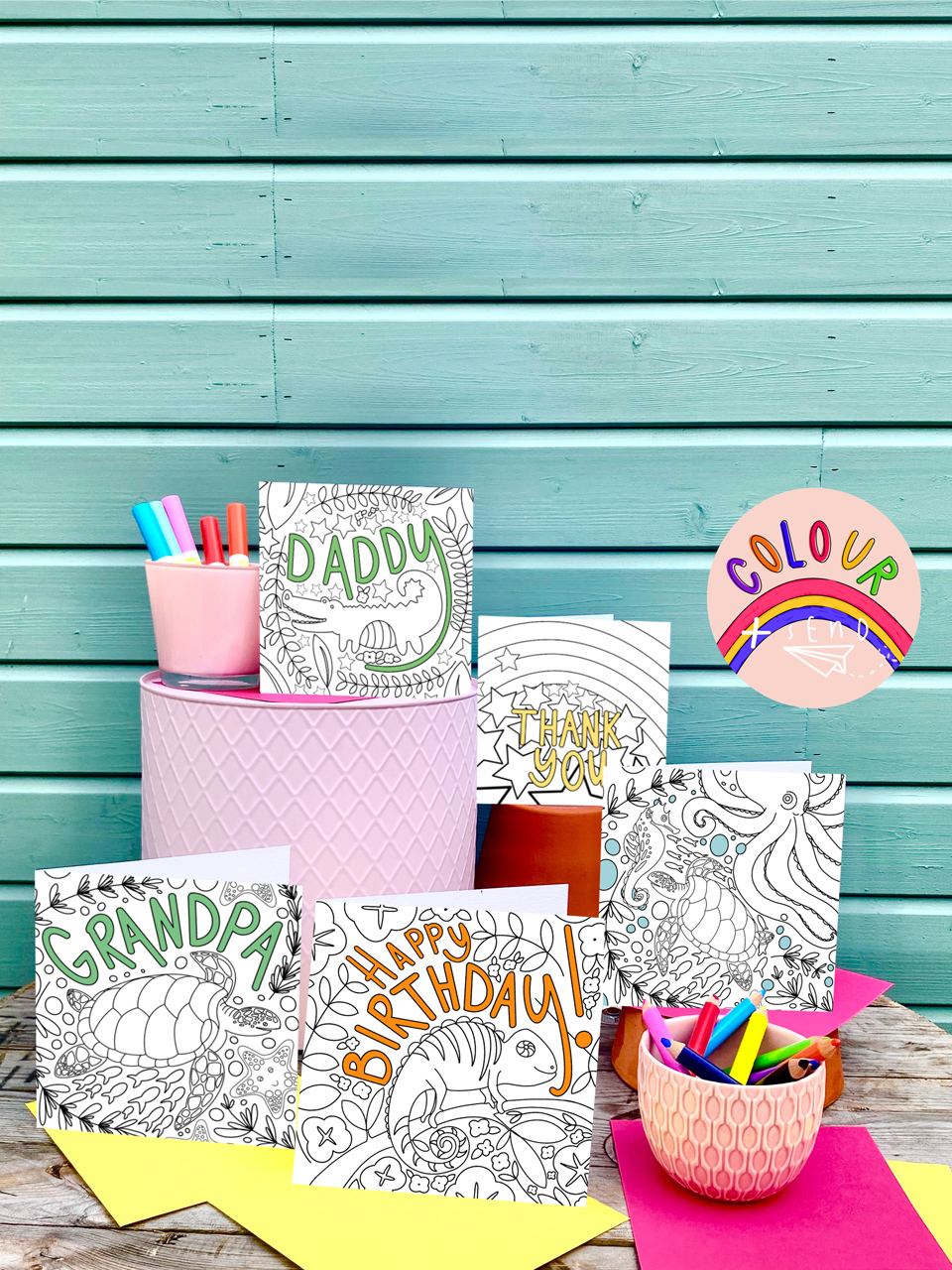 Why did you choose to enter Gift of the Year 2021 and has the competition helped boost your brand in the past?
We're Gift of the Year newbies! This is our first year launching our lovely cards and so here we are! We have been aware of the awards as a lovely company local to us won a few years ago (wild-olive) and they have just gone from strength to strength ever since, so it just shows how the awards can be a great boost for your business and brand.
Has your business been affected by Covid-19?
Yes! In a positive way really, our best selling ranges were produced during lockdown and were influenced by the feelings of missing family and friends. Our cards have really helped people though an extraordinarily difficult time and helped to keep people in touch with a really personal touch. We're so sad to see the impact Covid-19 has had on our wonderfully unique independent shops but amazed to see how they've adapted with local deliveries and online shopping and so have still managed to place trade orders with us, which is amazing!
What changes have you made as a result?
Like with our indie shops, we've adapted to an online world, alongside our trade customers we've grown a very fabulous base of online public customers which have really helped us through these last few months.
What other products have you brought to market for 2020, can you share them here?
Our card range has grown SO much in the last few months and will continue to grow. Currently alongside our entered Colour + Send cards and Family cards we have a great range of florals, dogs, bold, children's and Christmas cards. But watch this space because there is so much more to come!
Where can your products be purchased? All of our cards are available on our website www.lottiesimpson.com and are available from a selection of lovely independent shops!