HISTORY HEROES - 2021 GOTY ENTRANT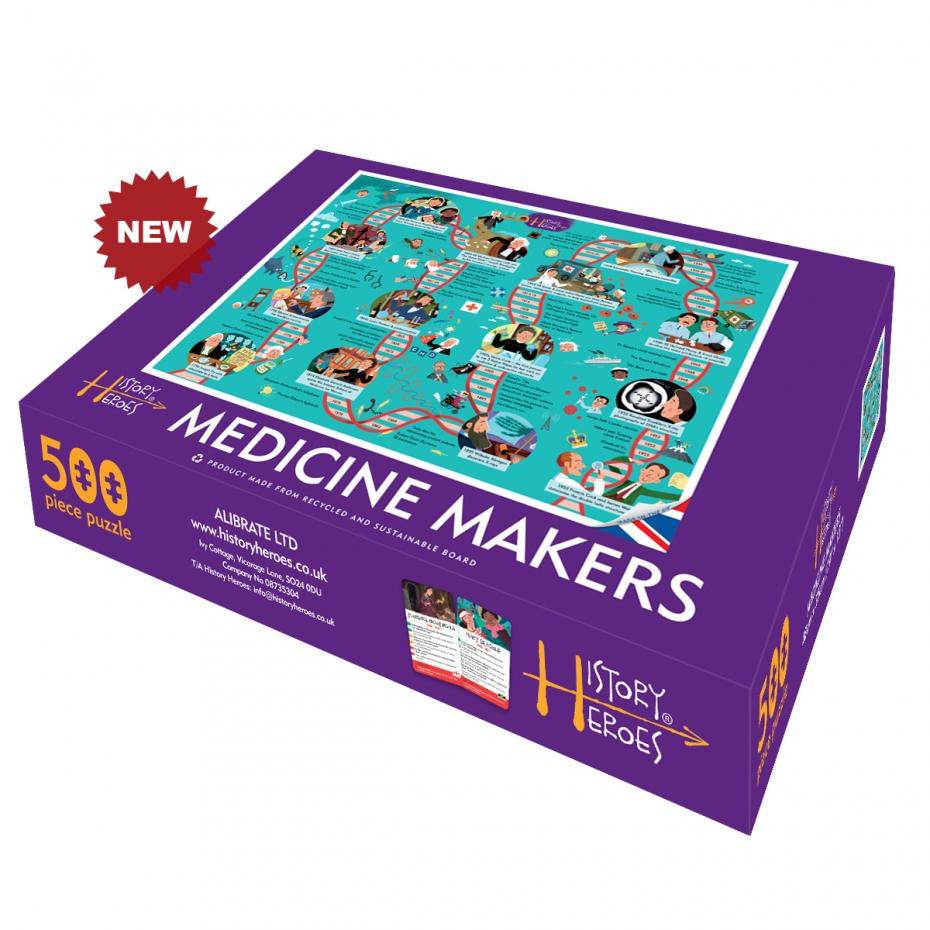 Product Description
It's a 500 piece timeline jigsaw that takes you on a fantastically and wittily illustrated journey through 200 years of fast changing medicine and science from 1756 to 1953, meeting and discovering some of the people and events that have changed our lives as you piece together the puzzle.

Tell us about your business
History Heroes (Alibrate Ltd) is run by Alex Ehrmann with an aim to make fun, educational games and products for all ages from 8 - 80+. All the products are made in the UK from completely sustainable products. Our new jigsaw is made from 100% recycled cardboard. There are presently 12 History Heroes card games that have won several awards and four of which are licensed by the Science Museum.

What can you tell us about your entered products? The Jigsaw: MEDICINE MAKERS is a fantastic, fun way for all ages to sit together, piece together a wittily and beautifully illustrated puzzle and discover more about our world along the way. A wealth of STEM facts and world history packed into a beautiful, entertaining and informative jigsaw for child and adult alike. The jigsaw is:
500 pieces
Size: 48cm x 35cm (19″ x 13″)
Made in the UK
Made from 100% Recycled and Sustainable Cardboard
Complete the jigsaw and a journey from 1756 when medicine was still based on guesswork and superstition and Joseph Fry sold chocolate as a tonic from his apothecary. Packed with facts, the jigsaw leads you to 1953 when Crick and Watson determined the double-helix structure of DNA.
Meet 14 highlighted History Heroes along the way, such as Edward Jenner, Florence Nightingale and Mary Seacole, Louis Pasteur, Elizabeth Garrett Anderson, Marie Curie, Alexander Fleming and Rosalind Franklin, who shaped and changed our knowledge of medicine and health together with some of the major global, scientific and technological events that helped shape that journey too. The jigsaw timeline is in the shape of the double-helix and underscores the significance to us all of understanding the developments in medicine, science and technology, ever more so today.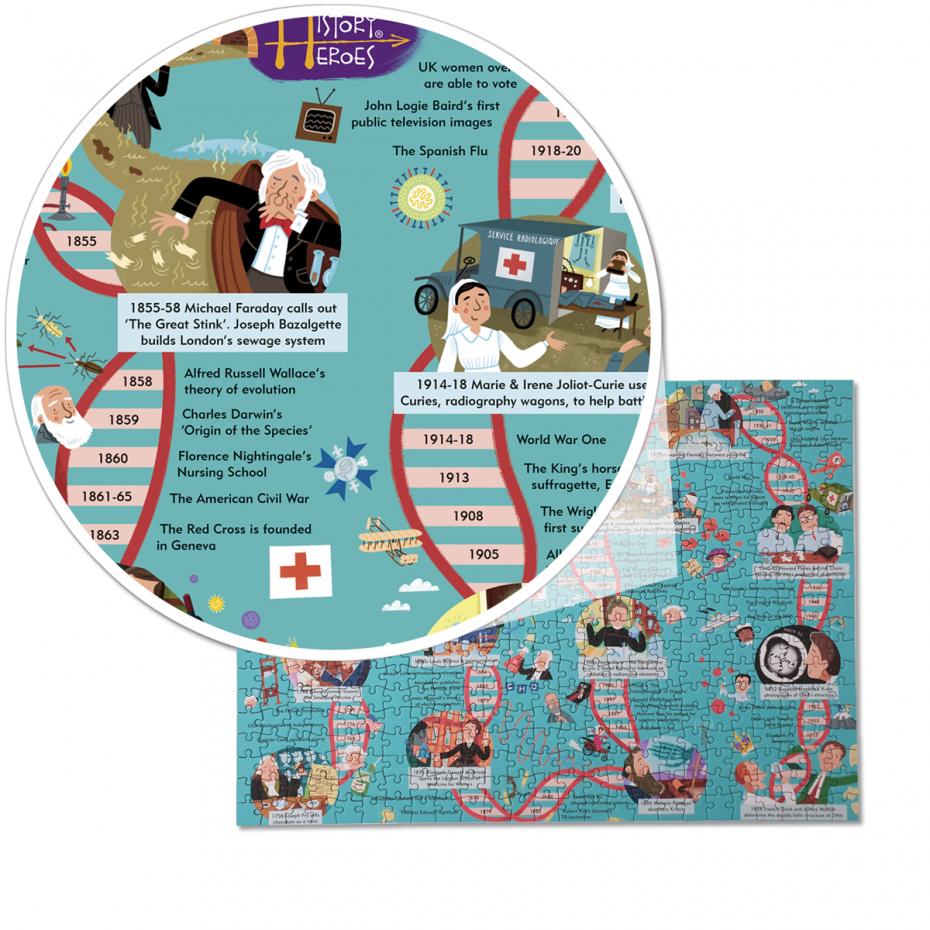 Why did you choose to enter Gift of the Year 2021 and has the competition helped boost your brand in the past?
Our card games have been highly commended in the Gift of the Year awards previously. Participation in the awards has raised the profile of our company and our products without a doubt. Winning Highly Commended has also given our products a great badge of endorsement and accreditation in the giftware industry: retailers clearly really appreciate and respect the Gift of the Year's judgements

Has your business been affected by Covid-19?
It has but mostly in a positive way. It feels uncomfortable to acknowledge that when so many businesses from so many different industries have suffered so badly. We are extremely fortunate: in these times people have returned to playing together and have looked for games with fun, educational value too. The fact that our products are made in the UK has really helped in terms of the supply chain too. The one area of the obvious challenge has been how Covid-19 has hit some of our retailers and therefore their subsequent demand for stock.

What changes have you made as a result? As everyone has gone so much more online, we have developed our eCommerce site and made buying from it a more experiential buying process for the consumer, which has been extremely successful. In terms of selling to retailers, we have tried to make the buying/selling experience as easy as possible for them too: we don't have minimum orders; we are constantly improving our product images for their use too, providing sample display games for bricks and mortar retailers as well7. We're always delighted to cross-promote them whenever/however possible.

What other products have you brought to market for 2020, can you share them here?
The MEDICINE MAKERS jigsaw is our main new product for 2020, first in a line of new jigsaws to come out

Where can your products be purchased?
Amazon
Science Museum
National Gallery
English Heritage
Historic Royal Palaces
WH Smith Travel
Independent retailers & heritage centres