EATSLEEPDOODLE- 2021 GOTY ENTRANTS
Product Description New this year; our fairytales & legends design, filled with everyone's favourite storybook characters, knights, princesses, magical unicorns and more... And with a beautiful 'book' on the reverse – perfect for creative writing practice! Plus, a 'working wheels' print with iconic sports cars, tractors, diggers, buses, emergency vehicles and lots more, with space to design your own, too!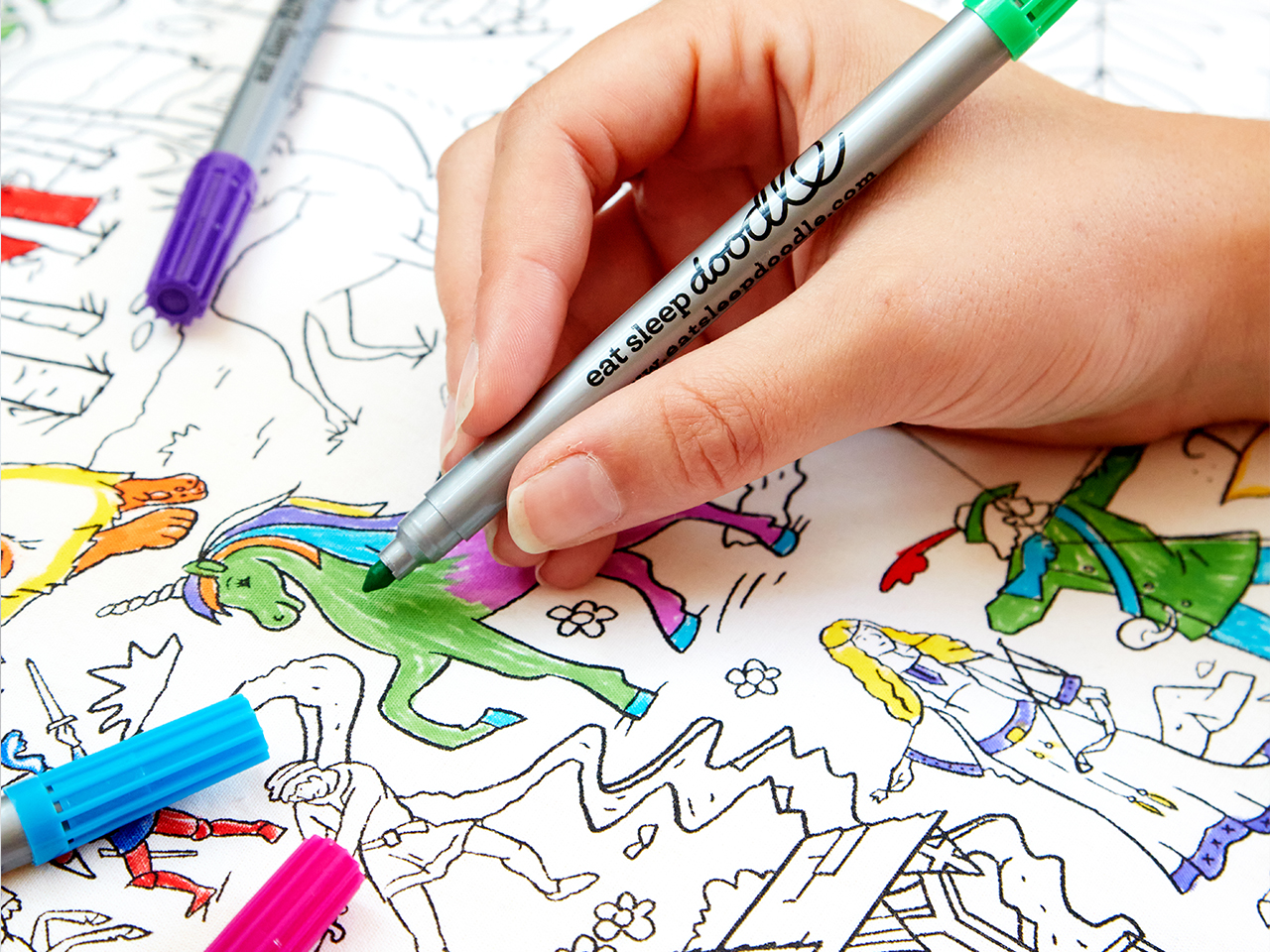 Tell us about your business
eatsleepdoodle make fun, creative and educational textile gifts to colour in with included wash-out pens!
What can you tell us about your entered products?
eatsleepdoodle gifts deliver a fantastic package of fun, learning and creativity. Sustainable and practical, all our textiles come complete with ten wash-out fabric pens ready for you to colour in and discover our inspiring designs, then machine wash - the ink completely disappears - and they're ready to be used and enjoyed again and again!
Why did you choose to enter Gift of the Year 2021 and has the competition helped boost your brand in the past?
The Gift of the Year Awards have always been especially important to eatsleepdoodle, from the moment our concept product, the doodle duvet, won the prestigious GOTY award in 2010. Since then, the doodle duvet has inspired a whole range of fun, practical textiles to colour in and personalise, from tablecloths and placemats to pencil cases, pillowcases and backpacks. We decided to enter GOTY 2021 as, this year we feel especially proud of how our products are being used remedially for adults and children as well as for general creativity and enjoyment. And this year in particular, too, we also want to celebrate the great functionality our gifts have shown as support materials during homeschooling sessions, plus as a fantastic (and no-mess!) craft activity to help keep kids happy and busy and get everyone creating!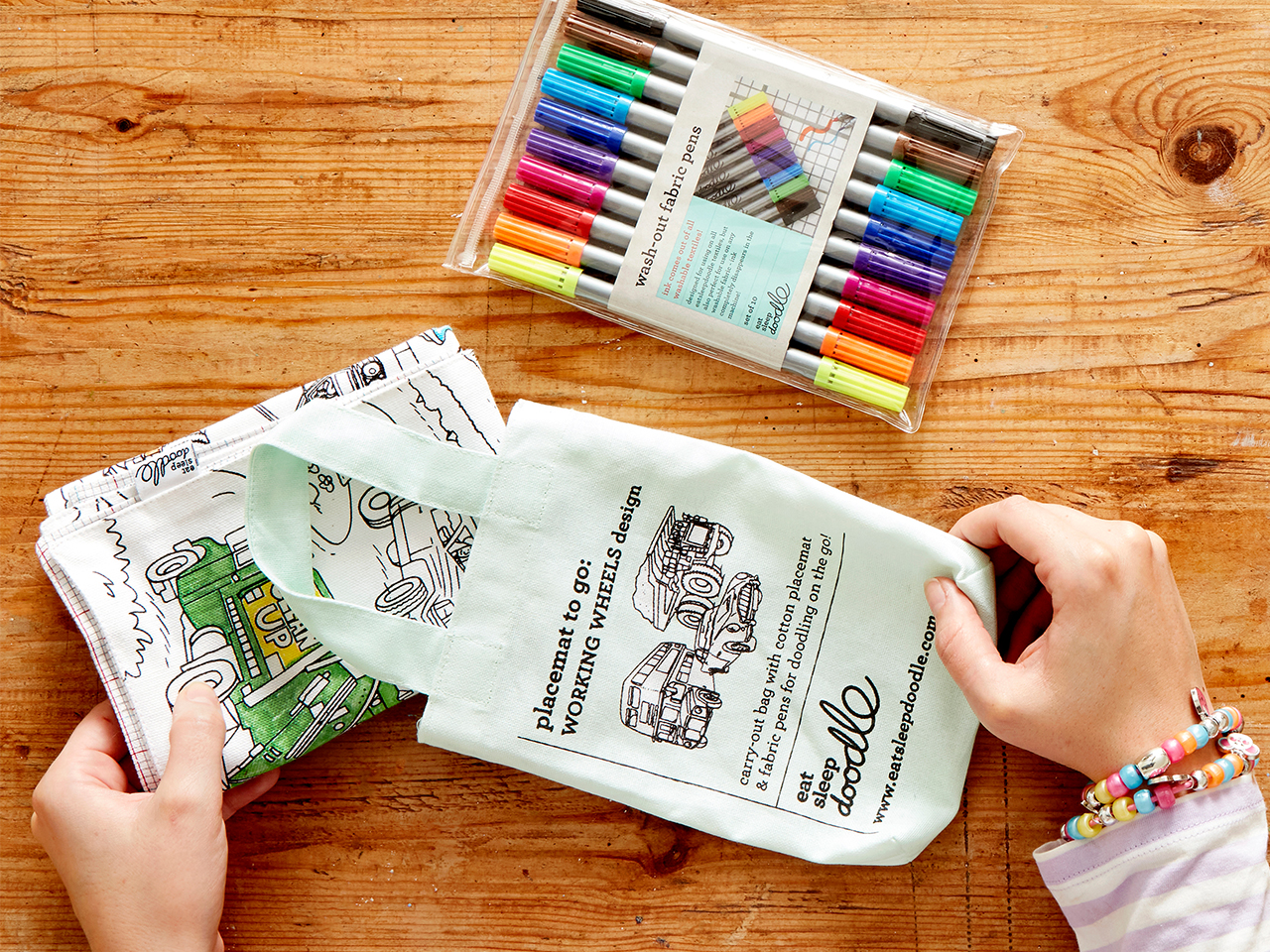 Has your business been affected by Covid-19?
As for everyone else, Covid has had a huge impact on our lives and business. From the immediate, practical side of things with our small team learning to communicate virtually over Zoom, Skype and speakerphone for months on end, to the economic and logistical aspects of inflated shipping rates and long queues at ports, there have been some big consequences. In particular though, as a wholesaler who does much of its trade with small, independent shops and galleries, it's been devastating to see the effect of so many doors closing to the public and we have huge sympathy for our high street partners and, indeed, all bricks & mortar retailers. Despite all the logistical hurdles above, we have been fortunate to be able to continue trading successfully at both trade and retail and provide learning and entertainment at a difficult time.
What changes have you made as a result?
The first thing we did at the start of lockdown was offer our support to our physical retail partners through flexible payment terms and order sizes, free UK shipping and access to our library of high res images for them to use on their websites if going digital. Similarly, we made the decision to offer free UK shipping to all our retail customers for the duration of lockdown (which we then extended into December) to make life as easy as possible for people. To help break the tedium of lockdown (especially with bored kids!), we also started a newsletter that's filled with fun ideas for creative activities to do at home, handy tips and tricks, little inspirations and other positive, useful messages that we hope are truly helpful to our community of doodlers. Unable to set up live photography shoots but always focusing on getting the fun and creative message of eatsleepdoodle across visually, we commissioned an innovative animated video, launched just last month.
What other products have you brought to market for 2020, can you share them here?
As well as our Fairytales & Legends Storyteller Pillowcase and Placemat 'to go', and our Working Wheels Placemat 'to go', this year we also launched a Christmas Craft Activity Pack with six colour-in Christmas cards and gift tags and three sheets of large wrapping paper, ready to colour and customise and make all your Christmas gifts extra special and personal. From reindeer and bells to snowflakes, Christmas trees, baubles and gingerbread men, our activity pack is full of fun and festive icons to design and personalise!
Where can your products be purchased?