CARLUCCIOS UK LTD - 2021 GOTY ENTRANTS
Product Description For the first time Carluccios retail team are delighted to bring their range of Gift Food and Italian Deli products to the retail market, To date the range has just been sold in retail areas within Carluccios restaurants. The entry for Gift of the year has been a star gift for Christmas. Each of the 3 products within the selection is delicious & packaged to create surprise and delight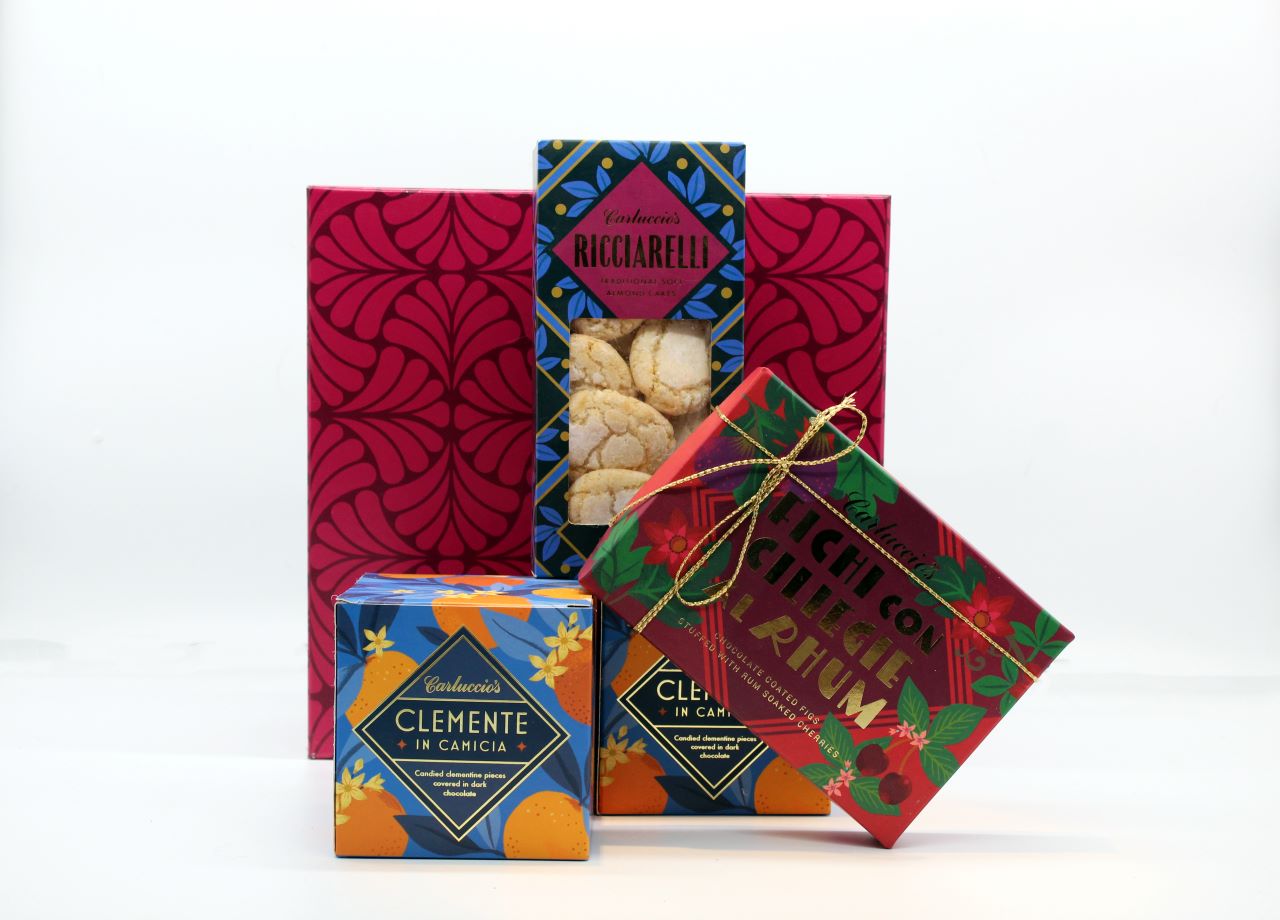 Tell us about your business
We are a restaurant chain with a retail division
What can you tell us about your entered products?
This collection of sweet treats are really delightful. We are carrying on with Antonio Carluccio's ethos of working with small producers and farmers to deliver authentic products, with provenance and steeped in family tradition. These really are quite unique in both the taste and deliciousness of the product and the exquisite packaging created to ensure we deliver a brilliant customer experience. The Clemente in Camicia is a wonderful production where the farm pick the ripe fruit and steep them for 20 days in clementine syrup, then they slice into segments and double dip them in delicious chocolate to seal in the flavour and freshness. These have to be tasted to fully appreciate.
Why did you choose to enter Gift of the Year 2021 and has the competition helped boost your brand in the past?
I have worked with the Gift of the year team for a number of years both as a buyer and a judge and I have been going to NEC Gift fair for over 18 years so this seemed like the ideal place to properly launch our product first.
Has your business been affected by Covid-19?
Yes definitely, many of our restaurants have had to close and therefore the retail spaces too. What has been amazing is how, our very loyal, customers have moved to purchase online and we are tracking on a par with last year which is really positive.
What changes have you made as a result?
We have launched our products with a few gift hamper online companies, as well as our own website and this has been our success story so far.
What other products have you brought to market for 2020, can you share them here?
We have a full range of new festive Panettone including our Spritz Panettone gift hamper which has a delicious Aperol flavour throughout the cake and perfectly wrapped up with an Aperol spritz. Our panettone has won a huge amount of press accolades this year and was featured in a cakes and bakes documentary this November on Channel 5 showing the whole manufacture process. We won a huge amount of new customers trying to get hold of these products. Last week the Evening Standard put us first in the top 10 panettone which we were delighted about. We have year round deli range and gift selections for all seasons and occasions.
Where can your products be purchased?
Currently on our own website, carluccios.co.uk, boroughbox.com and within our 28 restaurants retail spaces. We are looking to develop this early next year with a selection of key retailers